Tough Guys comes to SHOWTIME
In 2007 I set out to share the untold story of the "Tough Guys." These are the men who created the sport of MMA while Dana White was still in elementary school and 13 years before the UFC existed. A decade later and my book "Godfathers of MMA" is coming to life on SHOWTIME
? The same network that just set PPV records with Mayweather vs McGregor, will broadcast the real origins of MMA in America. Pittsburgh is the "City of Champions" and now can add "Birthplace of MMA" to its banners! It may have been the wrong place wrong time… but it was one hell of a ride. Congrats to my dad and Frank on being a part of American sports history!!!!!!!
Tough Guys reveals the clandestine plot to subvert the "first" mixed martial arts revolution in American history, one poised to challenge boxing as the king of combat sports. Confounded by a freak accident (death in the ring) and widespread corruption, a massive struggle ensued over money, power, and respect between boxing's gentry and an upstart MMA company from Pittsburgh, Pennsylvania. CV (Caliguri and Viola) Productions ignited a bitter turf war with the Pennsylvania State Athletic Commission that sparked a spectacular David and Goliath battle for leverage. The result was the first law to ban mixed martial arts MMA in America.
The legendary story, buried by rhetoric for years, casts a wide net reeling in everyone from politicians to mobsters, all with ulterior motives; all with eyes on a billion dollar blueprint. From boxing's "Holy Territory," the home of Rocky Balboa, to a bizarre connection with the Supreme Court that lead to the first legal precedent for MMA—ever, this is the ultimate inside look.
ACADEMY AWARD® NOMINATED MORGAN SPURLOCK JOINS ACADEMY AWARD® WINNER ROSS KAUFFMAN FOR THE MIXED MARTIAL ARTS DOCUMENTARY "TOUGH GUYS" MMA TV SHOW
MMA TV SHOW ON THE ORIGINS OF THE MIXED MARTIAL ARTS COMPETITION PHENOMENON IS SET TO WORLD PREMIERE ON SHOWTIME
NEW YORK, NY Academy Award® nominated documentarian Morgan Spurlock (SUPER SIZE ME) teams with fellow Oscar® winning filmmaker Ross Kauffman (BORN INTO BROTHELS) to bring TOUGH GUYS – the story of the origins of the mixed martial arts (MMA) fighting phenomenon – to the big screen. The film is executive produced by Kauffman and Spurlock together with Spurlock's business partner Jeremy Chilnick.
TOUGH GUYS is directed by two award-winning filmmakers, Henry Roosevelt and W.B. Zullo and produced by the award winning commercial producer Craig DiBiase. This moving and insightful non-fiction cinematic film chronicles the origins of the MMA beginning in Pittsburgh, PA in the early 1980s. Back then, these fights were known as the "tough man," or "tough guy," or "battle of the brawlers," or "battle of the superfighters" matches. These fighting bouts have now achieved multimillion-dollar fight status.
"When I was around 12 years old, my dad took me to my first "tough guy" competition in my hometown of Beckley, WV," says Spurlock. "And I have to admit, it was one of the greatest things I'd ever seen. So when the opportunity came along for me help tell the story of its origin, I jumped at the chance. TOUGH GUYS is an unbelievable tale about the creation of this one of a kind, man against man, skill against skill, sport of the ages. Films like this are rare discoveries, and the characters behind them are even more incredible. If you like watching guys get punched in the face as much as I do, then you are going to love this movie!"
In 1979, Bill Viola and Frank Caliguri dreamed up a contest pitting barroom bigmouths against wrestlers, martial artists, boxers, bouncers and brawlers, billed as no-holds-barred new type of competitive fighting. When the fights succeeded beyond their wildest expectations, they were swept up in a chain of events that ended in the first mixed-martial arts ban in the nation.
Presented through the untold stories of scrappy brawlers and amateur promoters, TOUGH GUYS chronicles the inception of Caliguri and Viola's first bouts and the colorful, crazy cast of fighters who made them a hit as well as the politicians who brought it all crashing down. The film brings to life a moment when the national martial arts craze was building to a crescendo as the economies of Pennsylvania steel towns were plummeting to levels of unemployment never seen before or since, breeding desperate men looking for chance to prove their worth and earn some money in the ring.
"Like my previous films, BORN INTO BROTHELS and E-TEAM, TOUGH GUYS is about underdogs striving to achieve the impossible," states Kauffman. "In TOUGH GUYS, the underdog is America's working class who are searching for respect and ultimately a way to survive. When I got involved I didn't know how timely the story would be."
###
ABOUT TOUGH GUYS:
Told through the colorful stories of scrappy brawlers and amateur promoters, TOUGH GUYS brings to life the birth of mixed martial arts competitions in 1980's Pittsburgh. The idea to legitimize street fighting by putting it in the ring, brought big money, crowds, copycat competitions and ultimately scrutiny and tighter control. The film is directed by Henry Roosevelt and W.B. Zullo and produced by award winning commercial producer Craig DiBiase. It is executive produced by Oscar winner Ross Kauffman together with Oscar nominated director Morgan Spurlock and his producing partner Jeremy Chlinick. The film is based on associate producer Bill Viola Jr.'s book Godfathers of MMA.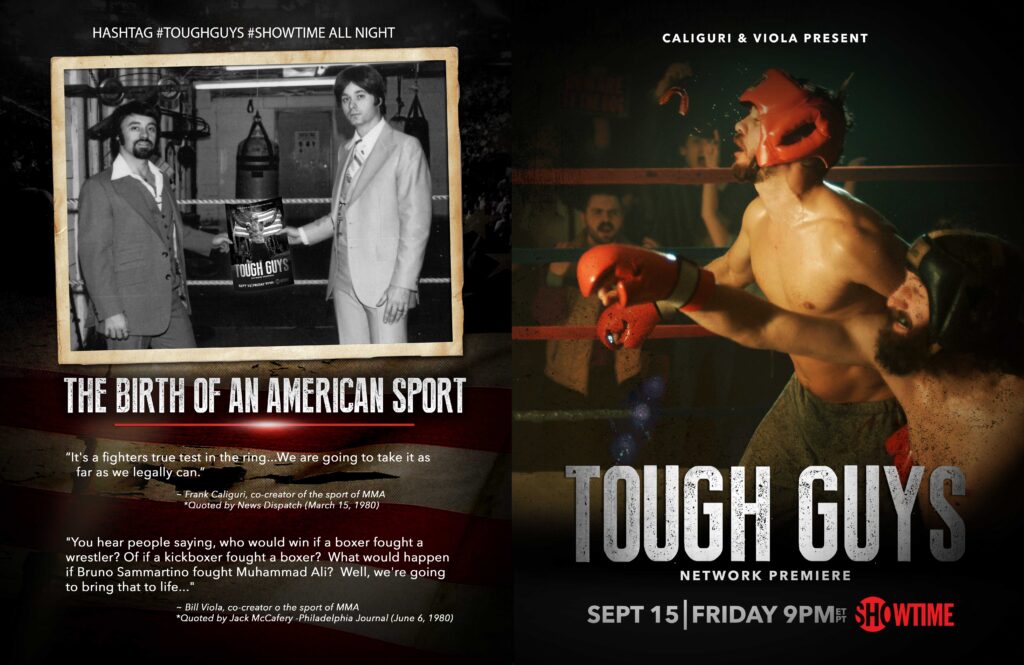 ABOUT MORGAN SPURLOCK:
Morgan Spurlock is an Oscar® nominated filmmaker and founder of Warrior Poets, a New York-based production studio. His first film, SUPER SIZE ME, premiered at the Sundance Film Festival in 2004, winning Best Directing honors. The film went on to win the inaugural WGA Best Documentary Screenplay award, as well as garner an Academy Award® nomination for Best Feature Documentary. Since then he has directed, produced, and distributed multiple film, television and online projects, including THE GREATEST MOVIE EVER SOLD; WHERE IN THE WORLD IS OSAMA BIN LADEN?; RATS; MANSOME; CNN's INSIDE MAN; and more.

ABOUT ROSS KAUFFMAN:
Ross Kauffman is the Academy Award winning Director, Producer and Cinematographer of BORN INTO BROTHELS, winner of the 2005 Academy Award for Best Documentary. He is Co-Director of E-TEAM, a documentary about the high-stakes investigative work of four human rights workers and winner of the 2014 Sundance Cinematography award. He served as Executive Producer on the documentary feature IN A DREAM, which was short-listed for the 2009 Academy Awards and as Consulting Producer on the Academy Award nominated film POSTERGIRL. Ross is a Founder and Creative Director of Fictionless.